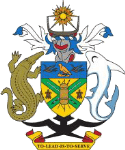 The division grew from the embryos of Meteorology Division, and its inception was based on realization of the importance of climate change and a consciousness of the low level of attention climate change has received from stakeholders over the past years.
Core functions and responsibilities
The Climate Change Division aims to send a strong message to Solomon Islanders, the global community and the country's donor partners on the high level of importance the Government places on the issue of climate change. The mandate and operations of the division will include; close monitoring on the extent to which Solomon Islands is vulnerable to the effects of climate change, play a leading role in mobilizing resources for adaptation and mitigation initiatives, conduct relevant and priority research and information dissemination activities, seek resources to support national programmes to mitigate the causes of climate change, and be the country's lead agency in addressing Solomon Islands' obligations as a Party to the United Nations Framework Convention on Climate Change (UNFCCC) and Solomon Islands' commitment to the Pacific Islands Climate Change Framework.
Vision
A resilient, secure and sustainable Solomon Islands responding to climate change
Mission Statement
To enhance adaptation, disaster risk reduction and mitigation capacity throughout the Solomon Islands that contributes to increased resilience and achievement of sustainable development goals.
Functions and Responsibility
To oversee the implementation of and be the focal point for climate change projects.
To conduct assessments of the vulnerability of Solomon Islands to climate change.
To look at ways that Solomon Islanders can cope with the impact of climate change adaptation to climate change.
To represent the Solomon Islands Government and its people at international climate change meetings and negotiations.
To conduct awareness and education Programme for the public in schools and communities and through media and face to face workshops.
Projects
Name: Douglas Yee
Position: Director
Phone: (677) 24074
Fax: (677) 28054
Name: Hudson Kauhiona
Position: Deputy Director
Phone: (677) 24074
Fax: (677) 28054
Name: Reginald Ruben
Position: Chief Research Officer
Phone: (677) 24074
Fax: (677) 28054
Name: Thaddeus Siota
Position: Chief Climate Adaptation
Phone: (677) 24074
Fax: (677) 28054
Name: Malachi Batee
Position: Principal Climate Change Officer
Phone: (677) 24074
Fax: (677) 28054
Name: David Tufi
Position: Principal Climate Change Officer
Phone: (677) 24074
Fax: (677) 28054
Name: Junior Suhara
Position: Senior Climate Change Officer
Phone: (677) 24074
Fax: (677) 28054
Name: Nancy S. Diamana
Position: Senior Climate Change Officer
Phone: (677) 24074
Fax: (677) 28054