According to the United Nations Development Programme (UNDP), impacts of climate change – such as increased droughts or more erratic storms – threaten to undermine decades of development gains and put at risk efforts to eradicate poverty.
Climate change will affect different parts of Solomon Islands in different ways. Coastal communities will face different problems to inland communities, and people living in towns will experience different changes to those living in remote rural areas.
Therefore, it is important that Solomon Islanders understand how climate change will affect different parts of the country, so that they can begin to plan for the future and so that the government is able to put in place strategies and plans to ensure continued sustainable development in the country.
In Solomon Islands, some of the impacts of climate change include: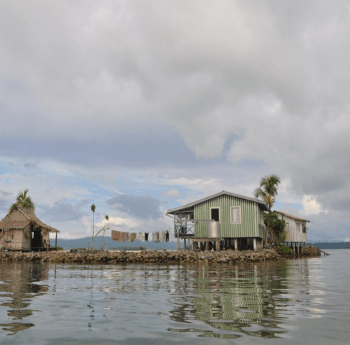 Sea Level Rise (SLR)
According to reports, scientists predict that sea levels in the country will rise by as much as 1 meter by 2100, increasing the level of risks to low lying coastal communities throughout the country. Some of these risks include increased coastal erosion due to the rising sea levels as currently being experienced in areas such as Ontong Java, Roviana Lagoon and the Reef Islands in Temotu Province.
The rising sea levels also expose these communities to other risks such as coastal salt water intrusion, which is a serious problem for coral atolls and which leads to decreased levels of fresh water supplies and increased risks to communities' food gardens and food security in general.
Increased Rainfall
Increased rainfall throughout the country may mean that flooding throughout the country during the wet season becomes more severe, leading to increased risks to flood prone communities and to their properties and food gardens as well as increased risks to the country's infrastructures such as roads and bridges. These changes may also lead to some parts of the country becoming wetter while other parts become dryer (droughts). The seasonality of rainfall may also change.
Increasing Temperatures
A hotter weather, when combined with other climate change impacts such as increasing rainfall and increased pests and diseases, will all affect food security if nothing is done to adapt to or mitigate their combined effects. Additionally, increasing sea surface temperatures, rising sea levels and damage from tropical cyclones will affect the health of coral reefs and other marine ecosystems.
Unpredictable Weather
Rising temperatures may also lead to the increased likelihood of more intense and longer periods of rainfall, leading to an increased risk of flooding.
The likelihood of tropical cyclones developing may also increase along with increased storms and general bad weather out in the ocean, leading to increased risks to sea farers.
On land, risks due to these changes may include risks to human lives, properties, infrastructure damage, diseases and risks to certain economic activities such as tourism.
Increased Risk of Diseases
Climate change could also increase the incidence of insect, food and water-borne diseases. Heat stress, skin diseases, respiratory infections and asthma could also increase with climate change.
Internationally, world bodies and agencies such as the UNDP are working to help countries address the challenges of climate change. The UNDP remains the largest service provider in the UN system on climate change adaptation and mitigation.
The development programme, along with its regional partners such as the South Pacific Regional Environment Programme (SPREP) are supporting countries such as Solomon Islands to transition toward low-emission and climate-resilient sustainable development, while helping them to prepare for and build resilience to the impacts of climate change, and pursue low carbon development pathways that guarantee a cleaner, greener future and that are in line with the United Nations Sustainable Development Goals (SDGs).
Climate resilience
Climate resilience is the capacity for a socio-ecological system to:
Absorb stresses and maintain function in the face of external stresses imposed upon it by climate change and;
Adapt, reorganize and evolve into arrangements that improve the sustainability of the system, leaving it better prepared for future climate change impacts.
With rising awareness of climate change impacts by both national and international bodies, building climate resilience has become a major goal for these institutions. The key focus of climate resilience efforts is to address the vulnerability that communities, states, and countries currently have with regards to the environmental consequences of climate change. Currently, climate resilience efforts encompass social, economic, technological, and political strategies that are being implemented at all scales of society. From local community action to global treaties, addressing climate resilience is becoming a priority, although it could be argued that a significant amount of the theory has yet to be translated into practice. Despite this, there is a robust and ever-growing movement fueled by local and national bodies alike geared towards building and improving climate resilience.
Vulnerability
Vulnerability is an essential component of the climate resilience discussion because people that are the most likely to experience the majority of negative impacts of climate change are those that are least capable of developing robust and comprehensive climate resiliency infrastructure and response systems.
However what exactly constitutes a vulnerable community is still open to debate. The International Panel on Climate Change (IPCCC) has defined vulnerability using three characteristics: the "adaptive capacity, sensitivity, and exposure" to the effects of climate change. The adaptive capacity refers to a community's capacity to create resiliency infrastructure, while the sensitivity and exposure elements are both tied to economic and geographic elements that vary widely in differing communities. There are, however, many commonalities between vulnerable communities.
Vulnerability can mainly be broken down into two (2) major categories, economic vulnerability, based on socioeconomic factors and geographic vulnerability.
Economic vulnerability
At its basic level, a community that is economically vulnerable is one that is ill prepared for the effects of climate change because it lacks the needed financial resources. Preparing a climate resilient society will require huge investments in infrastructure, city planning, engineering sustainable energy sources, and preparedness systems. From a global perspective, it is more likely that people living at or below poverty will be affected the most by climate change and are thus the most vulnerable, because they will have the least amount of resource dollars to invest in resiliency infrastructure. They will also have the least amount of resource dollars for cleanup efforts after more frequently occurring natural climate change related disasters.
Geographic vulnerability
A second definition of vulnerability relates to geographic vulnerability. The most geographically vulnerable locations to climate change are those that will be impacted by side effects of natural hazards, such as rising sea levels and by dramatic changes in ecosystem services, including access to food. Island nations are usually noted as more vulnerable but communities that rely heavily on a sustenance based lifestyle are also at greater risk.
Roger E. Kasperson and Jeanne X. Kasperson of the Stockholm Environmental Institute compiled a list of vulnerable communities as having one or more of these characteristics.
food insecure
water scarce
delicate marine ecosystem
fish dependent
small island community