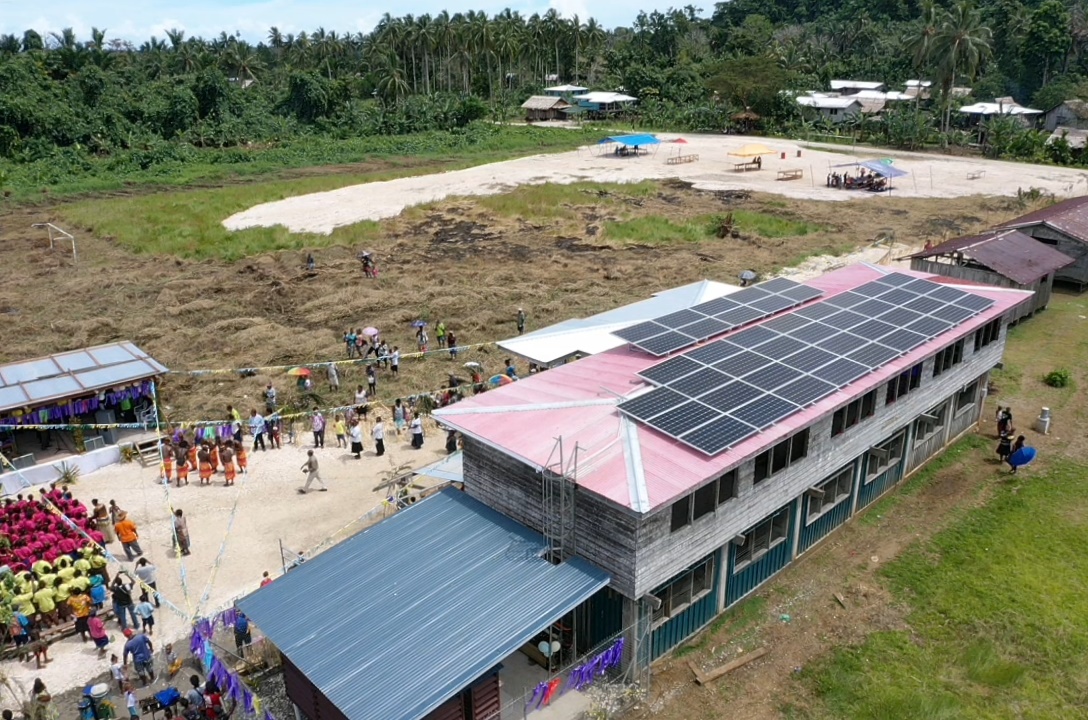 15kva Solar System at Wairokai is part of our efforts to transition to low carbon society and reduce global warming - Minister Togamana
Solomon Islands efforts as a party to the Paris Agreement which sets member country's development trajectories aimed at limiting global warming to 1.5 above pre-industrial levels is well on course.
This follow on from yet another milestone development when Wairokai Community School took delivery of a 15kva Stand Alone Solar PV and Micro Grid Power Supply System on Thursday 22nd August 2020. The system worth 1.5 Million dollars is fully funded by the Solomon Islands government through its Climate Change mitigation program under the Ministry of Environment Climate Change Disaster Management and Meteorology.
"The system is capable of supplying power for the school 24 hours 7 seven days a week for many years to come" says Mr Lemuel Liolea, the electrical engineer who oversee the project under JAWS Electrics , a new and upcoming renewable energy engineering company. He said that the battery technology used in the system is very modern and is the first of its kind in rural Solomon Islands.
Congratulating Wairokai community for a fine achievement Minister for Environment Climate Change Disaster Management and Meteorology Dr Culwick Togamana says Wairokai community has contributed immensely to the human resource sector in the country. In the public service alone there are more than 100 sons and daughters of wairokai who are serving the country in various fields says Minister Togamana.
In the area of climate change adaptation, the minister highlighted that under one of his Ministry's donor funded project for climate change and disaster risk management called CRISP (Community Resilience to Climate and Disaster Risks), They also completed water supply projects at Nahu, Kopo, Kiu, Koruha, Tawaimare and Heo communities in West Are'are. Although the projects could not be officially commissioned due to timing and funding limitations, he is been informed that these community projects are now fully operational.
The Minster said last year, "I commissioned a bigger solar system at Selwyn College, funded by EU but also managed under our Climate Change Division. That system size is a pilot for big boarding schools and this system we are commissioning today is a pilot for Community High Schools. It is the aim of my Ministry and other sister ministries like Ministry of Mines, Energy and Rural Electrification and Ministry of Education and Human Resources Development to replicate these two pilots in other schools throughout the country"
To the staff and students of Wairokai community school Minister Togamana said the benefits of the installation goes beyond just the provision of light. It has the potential to change the schooling and study habits of students, and it has the potential to either change or add to the current schools time table. Students and staff can now interact or have classes not only during the day but also at night.
Several Villagers spoken to during the launch expressed their gratitude to the National Government and the Malaita Provincial Government for choosing their school for this very important project. An excited mother said "Tagio tumas lo gavman for choosim place blo mifala for this fala project" referencing the fact that out of more than 5000 villages throughout Solomon Islands they are so privileged to have the solar project installed at their school. She said the provision of power will certainly provide an improved learning environment for their children.
Two students when asked about how they feel about having such an investment at their school responded by saying "Thank you tumas, mifala happy tumas"
The project is the result of very good collaboration between the Ministry of Environment through its Climate Change Division, Malaita Provincial Government and the Wairokai community in West Areare.
Ends//